MAKOplasty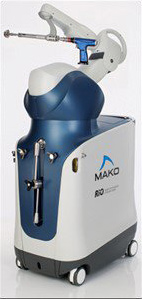 Robotic-assisted surgery is a minimally invasive procedure where your surgeon is assisted by a robotic system to perform the surgery.
The robotic system consists of a surgeon's console, robotic arms, a high-performance vision system and special surgical instruments. A computed tomography (CT) scan is taken before the surgery to create a 3D model of the affected hip or knee joint. This is interpreted by the system, which accurately guides your surgeon. Unlike a traditional surgery, this procedure is performed through small incisions. The 3D camera provides your surgeon with a magnified view of the operating area. Your surgeon sits at a console and controls the movement of the robotic arms holding the special surgical instruments. The movements of your surgeon's hands are translated by the robotic system into precise movements of the miniaturized instruments that are held by the robotic arms.
The enhanced vision and superior control of the micro-instruments improves the precision of the surgery. This accuracy helps repair the damaged joint and optimally position any prosthetic implant for a more natural feeling joint after surgery, while ensuring minimal injury to neighboring tissues. Being a minimally invasive procedure, benefits include less post-operative pain, shorter hospital stay, rapid recovery and faster return to daily activities when compared to traditional joint surgeries.
Am I Candidate for Robotic-assisted Surgery?
Candidates for robotic-assisted surgery include:
Osteoarthritis of the knee
Degenerative hip disease
No relief from pain and disability with non-surgical treatment and medication
Partial knee resurfacing
Total hip replacement